- -
Getting Stoned
(
http://www.sculpture.net/community/showthread.php?t=11016
)
| | |
| --- | --- |
| tobias | 01-12-2012 11:03 AM |
---
Getting Stoned

I just signed a contract with my gallery ! I will be installing a solo show of stone sculptures. They have agreed to pay for all the materials and consumables (diamond blades polishing pads fork lift rental ...). They are also giving me $2000 per month for 3 months as living expenses. The only thing they asked for in return is that I change my commission take from %60 to %40.
The stone will be Basalt from the Columbia river basin in Washington state. If you don't know what basalt is here you go.
Very hard stone(harder than granite) ,it's been carved since or before ancient Egypt. It tends to be dark grey to black in color. The Columbia river basin stone tends to be found in columnar type formations.
I will be caving columns that range in diameter from 3 inch to 16 inch and lengths from 2 to 6 feet.
The work will be figurative in nature quite like what I have been doing in wood. They agreed to this based on my sales record last year. I am very excited about this and a little bit nervous at the same time.
An example of where I'm going figure wise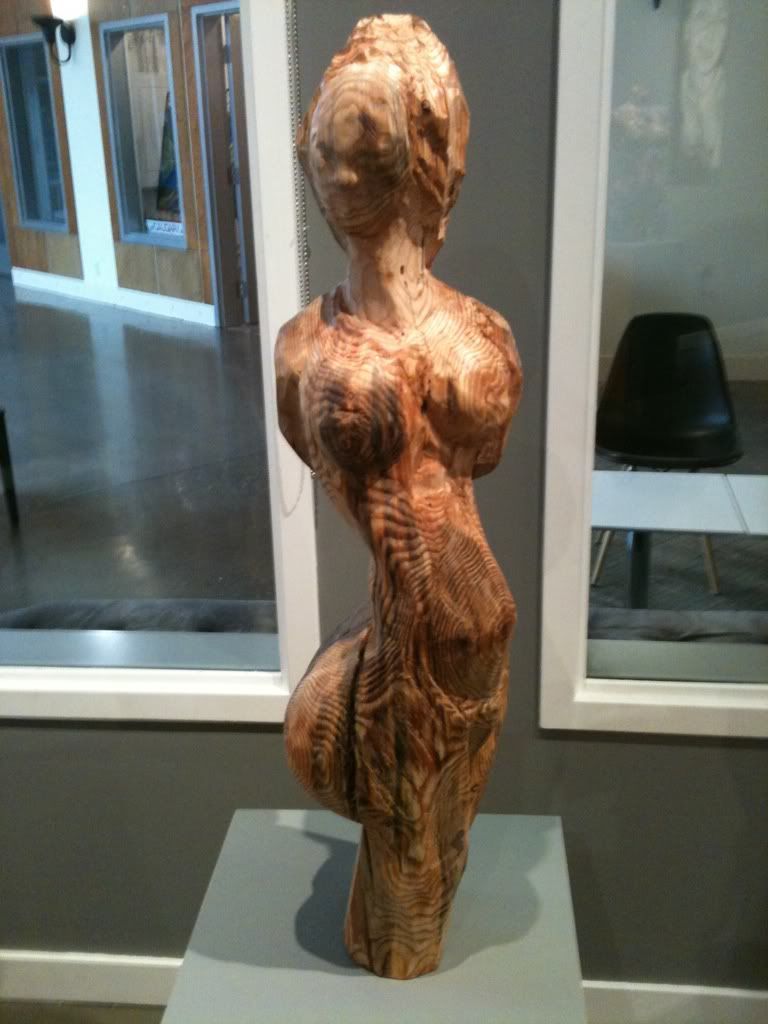 | | |
| --- | --- |
| Biomorph | 01-13-2012 10:23 AM |
---
Re: Getting Stoned

Will the gallery permit you to post any pics before the first show? I can't wait to see that kind of figure in basalt. You are pretty dispassionate about your material, but, diamond tools or not, that is very impressive stuff. I'll be interested to see what the group here feels about your deal. Seems to me that the gallery is very invested in your success. If the show is a blowout, time to think of the next one and to raise your share.
| | |
| --- | --- |
| evaldart | 01-13-2012 10:51 AM |
---
Re: Getting Stoned

I know that carving wood and carving stone (especially HARD stone) are very different experiences and processes; and so should likely be free to yield very different-looking artifacts. Yes, it will be interesting to see how these new figurations manifest.

2 grand a month is nice but I would be wary of the grubbing fingers of commercial entities as they attempt to slither into your creative life. Better to make your work, keep independence and be empowered for ALL possibilities. But business is business and we all must find our way through THAT side of our being also.

I have found that when things are going well in that other place, that "career" or "business" place, a leap of detachment is encouraged, not a leap of immersion. A run of selling "successes" might be used to fuel the promoting of the work to the next level, to venues where greater business opportunities can be advantaged; a bigger city, better region for what you do, a consideration of "playing" (the game of business) at higher and higher levels - rather than sign-on locally for some stability and security.

You are a hard worker and a confident one. Dont sell yourself short on a contract that is only promising you things that you could have easily done (always HAVE done) for yourself. Such things can take the anxiety out of life...and with that goes the fire.
| | |
| --- | --- |
| tobias | 01-13-2012 11:31 AM |
---
Re: Getting Stoned

Biomorph what has lead you to believe that i am dispassionate about my material?
E this is going to let me do exactly what your talking about this amount of stone and the monthly money will let me explore fully the ideas i have rolling around in my head. The pressure to sell is gone! I get to let my thoughts run on this one with no regard for material usage, tool destruction, consumables, any of that shit that would normally cloud my creativity.
I made sure that the contract stated that there would be no out side interference. I don't really even care what happens to this body of work once its done. I need to get this concept out of my head I need to let this process run its course. This is like being independently wealthy for me for this 3 month stretch.
I can't wait till my stone gets here!
| | |
| --- | --- |
| Biomorph | 01-13-2012 12:05 PM |
---
Re: Getting Stoned

Bad use of word. No one who knowingly sets off to use basalt can be other than passionate about his material. I suppose I was referring to the calmness with which you have agreed to produce a body of work in some reasonable time frame [you didn't tell us what was expected of you in terms of volume of product, and I wouldn't ask] and have chosen about the most intractable material around and, moreover, talk about a figurative element. Maybe sang froid is the notion I'm groping for.
| | |
| --- | --- |
| evaldart | 01-13-2012 12:14 PM |
---
Re: Getting Stoned

Yes T, you are right. The thing to be concerned with (obsessed with) is what is going to happen when that stone arrives. And you are also right to be more enthusiastic about the coming labor, rather than the commercial outcomes. Remember, they are not allowed in the studio. I am excited for you...you're making me want to go out to the barn now and attack somethings especially impossible.:D

See, this is how we make each other better.
| | |
| --- | --- |
| tobias | 01-13-2012 09:47 PM |
---
Re: Getting Stoned

Biomorph I actually find basalt easier to work with than granite. It takes more effort to break but breaks more predictably, grinds and polishes way faster. Although I'm not sure how much polishing I will do. As far as the figurative part first the precise nature of the figure is less important than the gesture and presence of the overall piece. Second the process is going to rule the entire body of work. I am looking for fast deep slashing cuts and splits. If something falls off oh well it's the nature of hard fast work. I've also chosen columns that are very close to the proportunes I'm looking at in my mind. I have committed to 15-20 pieces ;). That's right Ive set an almost impossible challenge for my self. Part of me thinks it will go faster than I think . Part thinks that I will never finish in time.

So there it is E go big hard fast or go home!
Oh yah. No one goes in the studio with out beer or food for me! And god help them that cross the threshold cause I won't.
| | |
| --- | --- |
| racine | 01-13-2012 10:25 PM |
---
Re: Getting Stoned

this is great news T, i hope u will let us see some of the workings- and have every faith that you will do well for yourself and gallery. brilliant.
| | |
| --- | --- |
| KatyL | 01-16-2012 12:12 AM |
---
Re: Getting Stoned

Are you going to carve that basalt with copper chisels like the Egyptians too?
| | |
| --- | --- |
| tobias | 01-16-2012 11:05 AM |
---
Re: Getting Stoned

Racine I hope to post some pics here but I will be updating on my blog regularly and there will be daily pics and observations on twitter. You can find me @thegorilladidit. Or
www.tobiasluttmer.com
Katyl that made me almost shoot coffee out my nose! Thanks for the vote of confidence.
| | |
| --- | --- |
| suburbanartists | 01-18-2012 11:09 AM |
---
Re: Getting Stoned

T, Sounds like this is great. For most this "commission" type deal is a creative blocker but sounds like it is a huge Opener for you as it is getting you more material, tools and time to focus which seems to be what you are looking for. As long as you have the balls to say f off if what you do is not meshing with what they expect, you are golden. Kick some ass.

Don't forget to get the best masks and filters made. Get a bunch on them.
| | |
| --- | --- |
| tobias | 01-19-2012 10:19 AM |
---
Re: Getting Stoned

Thanks Sub I've been using a 3M full face respirator for about 7 years now. Plus I carve with a water fed pneumatic angel grinder. Really muddy fun in my carving studio.
Now all I need is for it to stop snowing in Seattle so my stone order can be packed up and shipped to me.
| | |
| --- | --- |
| obseq | 01-19-2012 08:40 PM |
---
Re: Getting Stoned

Hey, Tobias,

Massive congratulations on this!
Looking forward to updates on the blog.
| | |
| --- | --- |
| tobias | 01-26-2012 10:13 AM |
---
Re: Getting Stoned

Thanks Obseq. Look for the first blog post some time around the 5 th of february. It will have some sketches better picks of the stone and some prelim talk about the project.
All times are GMT -5. The time now is

06:30 PM

.
Sculpture Community, Sculpture.net
International Sculpture Center, Sculpture.org
vBulletin, Copyright ©2000 - 2021, Jelsoft Enterprises Ltd.
Russ RuBert