- -
Bronze Clay?
(
http://www.sculpture.net/community/showthread.php?t=1661
)
| | |
| --- | --- |
| Arrow | 01-08-2009 06:24 PM |
---
Re: Bronze Clay?

I wonder if it is possible to bypass the sintering heat source (kiln) with a modified mixture of exothermic powders added to the bronze powder. I believe it would still require a controlled atmosphere.
Sorta like a slow thermite reaction.
However the binder burnout stage would have to be at a slower rate or the entire green object would explode.
Self-propagating high-temperature synthesis: the synthesis of compounds (or materials) in a wave of chemical reaction (combustion) that propagates over starting reactive mixture owing to layer-by-layer heat transfer.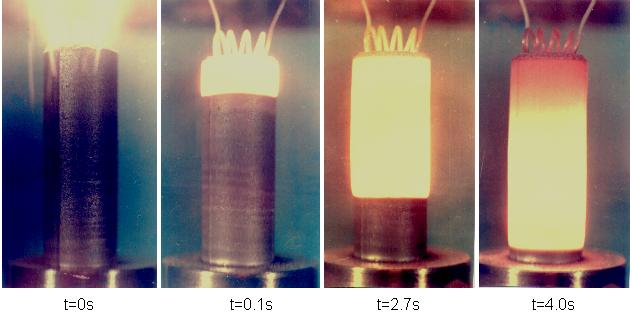 http://www.sciencedaily.com/releases...0106145348.htm
"...aluminum powder were mixed and placed inside a shallow aluminum foil crucible. A wire was inserted into the mixture, which was then heated to 2,700 degrees Fahrenheit triggering a reaction called self-propagating high-temperature synthesis (SHS), Logan said. The reaction caused the material to form a solid brick. A ceramic crucible was used in later experiments to form complex curved surfaces."
| | |
| --- | --- |
| DanielUCM | 01-10-2009 11:29 AM |
---
Re: Bronze Clay?

Robert - It sounds and feels just like cast bronze if its done correctly. Only difference I have had is in the look of the surface. If the sintering fails you get a ceramic feel to it. This is what has happened when I have tried to use carbon instead of gas with the bronze ice (water as binder instead of wax) method. So far only gas has resulted in the real deal for me.

Unfortunately my wife is fed up with me using gas as the protective environment in our home so I need to get a separate workshop to conduct further experiments. And using wax as a binder at home is a no-go to..

Arrow - Would be crazy if it was possible to find something that could bind the bronze as well as sinter it! Now that's some creative thinking!

/Daniel
| | |
| --- | --- |
| mark pilato | 05-03-2009 10:41 PM |
---
Re: Bronze Clay?

4 Attachment(s)
here are some pictures of pieces I made with the Pilato process, in a modified pottery kiln in my garage, a twenty dollar crock pot, a fifty dollar vacuum furnace bought at salvage, and a foot massager from Walmart
| | |
| --- | --- |
| grommet | 05-03-2009 11:34 PM |
---
Re: Bronze Clay?

What, no bobby pins or a left handed rolling pin?

That's some pretty fine detail & coloration on the pieces, very striking... I'll have to reread this process. (The details seem to have leaked out in the interim.)
| | |
| --- | --- |
| Lorenz | 10-29-2009 03:42 PM |
---
Re: Bronze Clay?

An update would be nice, how are the experimenters getting on?
| | |
| --- | --- |
| sharry | 12-21-2009 10:51 AM |
---
Re: Bronze Clay?

I've not read through every page of this posting but in case no-ones mentioned it here I thought I'd let you know that there is a similar product out there in bronze & copper, it's not cheap though. I've not used these versions of Art Clay but I have used the silver one and found that it works well and with less shrinkage than PMC. Personally, I found the clay a difficult substance to work with, very similar to porcelain clay. I don't know how the bronze might handle. I'm used to working with much firmer materials such as wax or chavant which could account for my difficulty. Here's the UK site anyway if it's of any use to anyone
http://www.silverclay.co.uk/shbr.htm
| | |
| --- | --- |
| GaryR52 | 01-14-2010 09:21 PM |
---
Re: Bronze Clay?

Hi, Sharry. It was PMC that got me to post this thread, to begin with. I was wondering if a similar bronze product for sculptors existed. Well, as you know, it does, but it's very cost prohibitive for sculpture. So, we started talking about ways to come up with our own bronze clay.

Gary
| | |
| --- | --- |
| skip77 | 07-14-2010 12:28 PM |
---
Re: Bronze Clay?

I'm late reading this string and wondering why none of the links to Mark's pages are working? Does anyone know?
| | |
| --- | --- |
| Lorenz | 05-04-2016 05:28 PM |
---
Re: Bronze Clay?

Hi, did this discussion really end there, I had some very good results with bronze just using a torch and sodium silicate binder albeit the pieces were jewellery size and I did some steel but used the kiln and charcoal if I remember correctly, just thinking of trying again and wonder if anyone has some updates or where else this might be discussed?
| | |
| --- | --- |
| raspero | 05-04-2016 06:56 PM |
---
Re: Bronze Clay?

I haven't seen anything posted here about bronze clay in years.

Richard
| | |
| --- | --- |
| Andrew Werby | 05-07-2016 02:10 PM |
---
Re: Bronze Clay?

There's going to be a workshop about making your own metal clays later this month, at the Richmond CA location of Douglas and Sturgess (our local sculpture supply house):

Douglas and Sturgess, 1023 Factory St., Richmond, CA 94801

Saturday, May 21
Make It Yourself Metal Clay
11AM-2PM
Metal clays have been around for awhile now but they are still intriguing and fun materials for making small sculpture and jewelry. Find out how to make some basic metal clays with readily available ingredients-most of which you can obtain from us. Of course the atomized metal is the key component and we have a wide variety of metals to choose from.

Andrew Werby
Juxtamorph.com
| | |
| --- | --- |
| Andrew Werby | 05-27-2016 03:58 PM |
---
Re: Bronze Clay?

Douglas and Sturgess rescheduled the Metal Clay event; now it's supposed to happen on July 16.
All times are GMT -5. The time now is

05:51 AM

.
Sculpture Community, Sculpture.net
International Sculpture Center, Sculpture.org
vBulletin, Copyright ©2000 - 2020, Jelsoft Enterprises Ltd.
Russ RuBert